Summary – OzLlotteries
OzLotteries is licensed and located in Australia. Number of lotteries, interesting games including syndicate (group play) variant. Proprietary software, download is not required. Nice opportunity to print your lottery ticket at home.
N.B.US players is not allowed

Go check out this top rated lotto site. Visit OzLlotteries now
OzLlotteries Lottery Games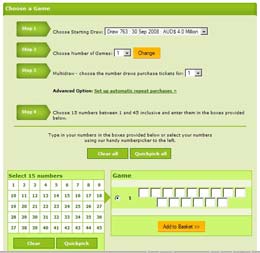 Standard
Refers to each standard line of numbers you select for a lotto game
Each standard game you play offers you a chance of winning one prize.
Can select only standard entry.
System
Can select more than standard numbers, till 20 (e.g. System 9 – pick 9 numbers).
Entry is equivalent to playing every possible combination.
Wider range of number combinations – more chance to win.
Super Combo
More number combination than standard entry.
Less number combination than system entry.
Syndicate
Syndicate is a group play.
Shearing the cost of lottery tickets between members of a group.
The prize will be divided equally among member of a group.

Now experience the exciting Lotto at OzLlotteries. Simply click here
Our Lotto Game Enjoyment Factor Rating:
Website Features
Download is not required.
Running on proprietary software.
Play Lotto.
Lotto Results.
Lotto Points.
Customer Support.
Lottery assistance with rules, strategy, glossary, statistic and syndicate kits and planners.
Possibility to see and print your lottery ticket.
OzLlotteries Bonuses & Promos
Loyalty program – Lotto Points.
1 lotto point redeemed 0,01 AUD.
To earn 1 lotto point you must spend 1 AUD.
Can use lotto points for next order discount (e.g. 50 points – removed 0,50 AUD ) or collect them for big discount.
Our Bonus Factor Rating:
Management & Customer Services
Customer Service via email, phone (Mon-Fri: 8.30am-6.30pm; Sat: 10.00am-6.30pm ) or by mail.
Post address GPO Melbourne VIC 3001 Australia.
Languages: English.
Licensed in New South Wales Australian.
Owned by Jumbo Interactive Ltd.
Operated by TMS Global Services Pty Ltd and TMS New South Wales.


Now play at this honest and reputable site. Go to OzLlotteries
Our Customer Service Rating:
Money & Banking
Currencies: Australian Dollars.
Purchase Options provided: Visa, MasterCard, PayPal, BPay, Bank Transfer, Cheque, Direct Deposit.
Our 'OzLlotteries' Overall Rating:

Go win some games today at OzLlotteries
If you're new here, you may want to subscribe to my RSS feed. Thanks for visiting!
Give your own rating:
Other players rated this casino:
Click a star to add your own rating.