Summary – Vernons
Vernons may be best known for their Football Pools, but their online site also brings you 4 big Lotto games as well as Instants and Scratchies.

Go check out this top rated lotto site. Visit Vernons now
Vernons Lottery Games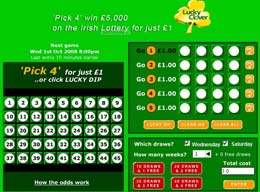 Lucky Clover
Lucky Clover is based upon the results of the Irish Lottery, which is drawn live on TV every Saturday and Wednesday
Play "Pick 5" and you stand to win £50,000, play "Pick 4" and you stand to win £5,000 or play "Pick 3" and win £500.
Your prize level is guaranteed, no matter how many other people win.
Lotto
based on the reults of the UK National Lottery, which is drawn on Wednesday and Saturday every week
match 1 for £10, 2 for £80, 3 for £1800 and 4 for £15,000!
El Lotto
based on the Daily Spanish Lotto draw
match 2 for £60, 3 for £600 and 4 for £6000
49s
49's gives you 4 ways to win up to £100,000
AND you get chance to win £1 million for free if all 6 of your numbers are correct!
There are 2 draws a week – Wednesday and Saturday lunchtimes
the numbers are generated by the 49's draw shown live on TV in 7,000 betting shops around the UK.
Classic Football Pools
Simply pick 11 numbers from 1 to 49. Or use your football knowledge to predict scores.
The numbers correspond to 49 football matches as shown in the match list page and which are also listed each week in the national newspapers.
add up the points scored by your best 8 selections. If they total 24, you've hit the top dividend JACKPOT. There are often BIG payouts for 23 and 22 points too.
Other Football pool games also available, plus instant win games and Scratchies.

Now experience the exciting Lotto at Vernons. Simply click here
Our Lotto Game Enjoyment Factor Rating:
Website Features
Your account gives you access to Vernons Football Pools, Lotto, Instant Wins and Bingo.
Every month Vernons give £2000 to a charity voted on by site users
Vernons Bonuses & Promos
Promos vary so check out the latest but when we looked they had these:
Up to £20 Free Bets for new customers, when you place your first deposit of £20
Buy 2 get 1 free on lotto tickets
Our Bonus Factor Rating:
Management & Customer Services
Vernons is owned by Sportech PLC – a FTSE Quoted Company on the London Stock Exchange., under the trading name "Littlewoods Promotions Limited"
They are licensed and operate in the UK
Vernons have been a leading operator of the Football Pools since 1925 and have over 5 million current and past players spread across 150 countries worldwide. In this time they have made hundreds of thousands of people very happy with a big win.
Customer services team operate from 8.30am-7pm Monday to Saturday. (call free from the UK) 
Or email. 
 

Now play at this honest and reputable site. Go to Vernons
Our Customer Service Rating:
Money & Banking
The site plays in Pounds.
Purchase Options provided: VISA or MasterCard credit cards and Switch, Delta, Electron and Solo debit cards.
Our 'Vernons' Overall Rating:

Go win some games today at Vernons
If you're new here, you may want to subscribe to my RSS feed. Thanks for visiting!
Give your own rating:
Other players rated this casino:
Click a star to add your own rating.