Unfortunately Plus Lotto is now closed.
Summary – Plus Lotto
Play at Plus Lotto and you'll be contributing to the work of the International Federation of Red Cross and Red Crescent Societies. Offers several big-jackpot Lottery draws, alongside Instant Win games and Scratchcards.

Go check out this top rated lotto site. Visit Plus Lotto now
Plus Lotto Lottery Games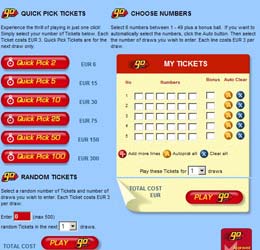 Pick!t
6 from 30 balls lottery game
random draw taking place every minute.
There are all sorts of ways to play this game: Pick Colours, Pick the Total, Pick Numbers, Pick!t Lotto (progressive jackpot)
Pick!t Lotto gives you a chance at winning the progressive jackpot. Select your lucky number and if it is drawn in the next 5 consecutive games you win the jackpot. You also win prizes if your number is drawn 2, 3 or 4 times in the next 5 consecutive games.
All entries into Pick!t LOTTO cost $1.Keno
Go Lotto
Weekly draw with Progressive jackpot.
Select 6 numbers between 1 – 49 plus a bonus ball
Each Ticket costs US$ 1.
You can watch each and every ball being drawn live every Friday at 15:50 pm (CET).
As well as the big Lotto draws, Plus Lotto have a wide variety of Scratchcards and instant win games such as Keno and HiLo.

Now experience the exciting Lotto at Plus Lotto. Simply click here
Our Lotto Game Enjoyment Factor Rating:
Management & Customer Services
Customer Service via email, fax or Customer Care line (09:00 – 17:00 CET).
PLUS Lotto claim to have been is the world's first Internet lottery.
Online since 1995, they've paid-out MILLIONS in prizes.
PLUS Lotto has already saved thousands of lives through its contributions to the International Federation of Red Cross and Red Crescent Societies and other charities. By the last audit they had contributed US $ 2,300,000 to charities.
Thawte certifies us and guarantees that personal information such as your credit card details is being protected and securely processed.
A Lloyds of London broker insures weekly lottery jackpots.
Liechtensteinische Landesbank AG holds Member's funds. It is 60% owned by the Principality of Liechtenstein and has an AAA rating.
The International Lottery in Liechtenstein Foundation, a charitable foundation that operates PLUS Lotto, is authorised and controlled by the government of Liechtenstein.
Thöny Treuhand AG audits the PLUS Lotto books of account and scrutinizes all the pre-draw and weekly draw procedures. This includes weekly and hourly lotteries and the instant games.
 

Now play at this honest and reputable site. Go to Plus Lotto
Our Customer Service Rating:
Money & Banking
The site plays in US$, Euros or Swiss Francs.
You can deposit and receive your winnings in any currency.
Purchase Options provided: NETeller , Visa, MasterCard, Diners Club, Switch, Solo and Delta Cards Cheque / money order Bank transfer, Tippcash
Our 'Plus Lotto' Overall Rating:

Go win some games today at Plus Lotto
Give your own rating:
Other players rated this casino:
Click a star to add your own rating.